Live Colour Hair Dye Hot Cinnamon - Review
Sunday, November 25, 2012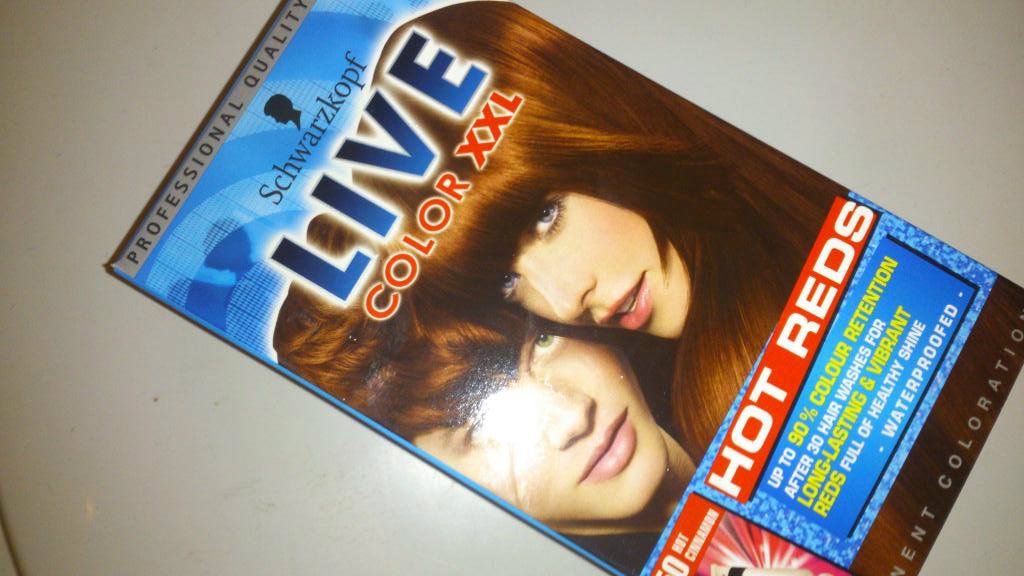 I change the colour of my hair almost as often as I change my socks... well not quite as I change my socks in a daily basis but for sake of comparison we'll go with that.
Like a lot of people who colour their hair I like to go darker in the winter and then lighter towards the summer months, recently I've been sporting various shades of red as I find this flatters my skintone more so I decided to keep the red but go a little darker.
When I'm not using my beloved
La Riche Directions
dyes, I like to use
Schwarzkopf Live Colour XXL
these come in great range of colours and have a fantastic Hot Reds collection, I think at one point or another I've been all of these red shades.
I decided to give Hot Cinnamon a go as it looked like a nice warm auburn shade however it turned out a lot darker than I expected it to be but I'm getting used to it. This is a great reason why a strand test should always be carried our beforehand, not just for safey to make sure you don't have any reactions but also to check the colour.
Live Colour XXL box dyes come with more or less everything you need to dye your hair at home;
Instructions
Plastic Gloves (I prefer to use my own latex ones I buy from the pound shop)
Applicatior bottle with Developing lotion
Colour Creme
Conditioner
To conduct a strand test, mix a tiny amount of the developing lotion with the colour creme and apply to a few strands of hair from the nape of your neck. Leave the dye on for 20 minutes then rinse off. Do this 24 hours before dying your hair completely then check the colour and also the skin around the area if its red, irritated or bumpy, don't use the dye!
To dye your hair completely squeeze the colour creme into the developer and shake well, then section your hair and apply the dye evenly all over.
Make sure you follow the instructions for timing exactly (normally around 30 min) as if you leave it on too long or too little then the colour may not be as expected.
Once the developing time is over rinse until the water runs clear and apply the conditioner.
Then dry and style as you like.
I love the shine that comes from the Live Colour XXL dyes as it always makes my hair look really soft and healthy.
Home box dyes can be great but if you are looking for a drastic change such as going from blonde to brown its best left to the professionals as I'd recommend not going more than 2 shades darker or lighter with these.
The shades themselves are all pretty much true to the colour on the box however the outcome does depend on your initial hair colour.
Live Colour XXL
dyes are available in most Boots, Superdrug stores and online and retail at around £5.00. You can also find out more information on the Live Colour XXL website which has a great shade selector and also a styling tips section.